Gazi University, the foundations of which were laid in 1926 by the instruction of Gazi Mustafa Kemal Atatürk, was opened under the name of "Middle Teachers' School and Education Institute". Its name was changed to "Gazi Middle Teachers School and Education Institute" in 1929, and in 1976 it was renamed "Gazi Education Institute". In 1982 it gained the identity of "Gazi University".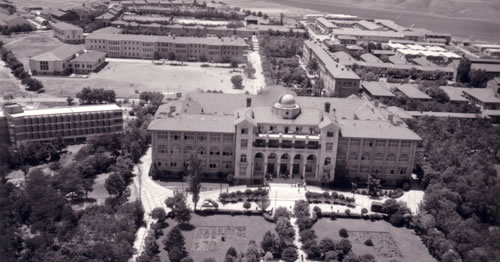 Time and experience are essential for the formation of corporate culture. Gazi Education, Ankara High Technical Teacher and Ankara Girls Technical Higher Teacher Schools, Ankara Economic and Commercial Sciences Academy and Ankara State Engineering and Architecture Academy have made important contributions to the infrastructure and formation of the tradition of Gazi University. Today, it serves with its 10 (11)faculties consisting of education, medicine, dentistry, pharmacy, health sciences, science, engineering, architecture, technology, sports sciences and applied sciences, one college, three vocational schools and five institutes .
Gazi University; a university that shares its experience and knowledge, took on roles in the establishment of Çorum Hitit University, Nevşehir Hacı Bektaş Veli University, Kırşehir Ahi Evran University, Kastamonu University and finally Ankara Hacı Bayram Veli University.
Taking into account features such as determining its priority areas, the quality of its education, the power of university-industry cooperation; its place in the ranking of country and world universities in different categories, Gazi University as of September 26, 2017, has become one of the 10 Research University's in Turkey.
Today, many programs of Gazi University have been accredited, have attracted attention with their interdisciplinary studies, and have guided many universities by developing stakeholder relations with different universities and institutions-organizations. Gazi University, which has English programs in addition to its Turkish programs, such as Medicine, Mechanical Engineering, Chemical Engineering, Civil Engineering, Electrical-Electronics Engineering and Industrial Engineering, also has collaborations in joint diploma programs with universities abroad and with ASELSAN ACADEMY which provides postgraduate education to different universites.
Gazi University, which is a city university located in the center of Ankara, has a central campus in Beşevler and campuses in Emek, Maltepe, Ostim, Gölbaşı and Kahramankazan. Today, approximately 37 thousand students are studying at Gazi University which also hosts foreign students from the Turkic Republics, Caucasus, Europe, the Middle East, Africa, America and the Far East. With approximately 3 thousand academicians and more than 10 thousand students in graduate programs, Gazi University is a higher education institution of international standard that meets the needs of academic staff of both its own and other universities. In terms of Turkey's progress and development; Gazi University, which plays an important role in the academic and technological accumulation of young generations, has proven its success in education both nationally and internationally. Without compromising its necessity, quality and style, Gazi University maintains the motto "Being a Gazi member is a Privilege", which is awarded to its students, teaching staff, administrative staff and graduates.